Daniel Köhler - Gründer und Direktor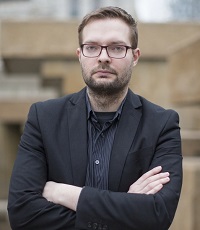 Daniel Köhler studierte Religionswissenschaft, Politikwissenschaft und Betriebswirtschaftslehre an der Princeton University und der Freien Universität Berlin. Nach Abschluss des Postgraduiertenstudienganges "Master of Peace and Security Studies" am Institut für Friedensforschung und Sicherheitspolitik (IFSH) der Universität Hamburg als Jahrgangsbester arbeitete er praktisch und wissenschaftlich umfangreich an den Themen Radikalisierung, Deradikalisierung, Extremismus und Terrorismus (Rechtsterrorismus und jihadistischer Terrorismus). Zudem arbeitete er als Familienberater in verschiedenen Programmen im In- und Ausland. Daniel Köhler entwickelte auch verschiedenste Deradikalisierungsprogramme und Methoden, insbesondere familienbasierte Ansätze, beriet Regierungen weltweit bei dem Aufbau von Deradikalisierungsstrukturen (z.B. in den Vereinigten Staaten von Amerika, Niederlande, Italien, Kanada oder England) und bildete entsprechende Experten aus. Ende 2014 gründete er die weltweit erste begutachtete Fachzeitschrift zum Thema Deradikalisierung zusammen mit dem German Institute on Radicalization and De-Radicalization Studies (GIRDS).
Von Juni 2015 bis Juli 2019 war er Fellow im neuen Forschungsprogramm zum Thema Extremismus im Zentrum für "Cyber and Homelandsecurity" an der George Washington Universität. Dort war er zuständig für die Entwicklung Community basierter Deradikalisierungsprogramme für die Vereinigten Staaten von Amerika. Im Jahr 2016 wurde er zum ersten Gerichtsgutachter für Deradikalisierung und Radikalisierungsevaluation für terroristische Häftlinge in den Vereinigten Staaten von Amerika ernannt. Seit 2016 arbeitet Daniel Köhler ebenfalls für das Ministerium für Inneres, Digitalisierung und Migration in Baden-Württemberg als wissenschaftlicher Referent im Kompetenzzentrum gegen Extremismus Baden-Württemberg (konex). Im Juli 2017 wurde er zum Mitglied in dem Editorial Board des International Centre for Counter-Terrorism (ICCT) in Den Haag berufen. Im November 2019 wurde er zum Research Fellow am neu eingerichteten Polarization and Extremism Research and Innovation Lab am "Center for University Excellence (CUE)" der American University in Washington D.C. ernannt.
Daniel Köhler erhielt für seine Forschungen Förderungen u.a. der Fulbright Stiftung, der Studienstiftung des deutschen Volkes, der Princeton University und der Schwarzkopf-Stiftung Junges Europa.
Ausgewählte Veröffentlichungen:
Monographien:
Ausgewählte Artikel und Paper:
Recent Trends in German Right-Wing Violence and Terrorism: What are the Contextual Factors behind 'Hive Terrorism'? In: Perspectives on Terrorism (2018), 12(6), 72-88.
Parents' Associations, Support Group Interventions and Countering Violent Extremism: An Important Step Forward in Combating Violent Radicalization. (together with Tobias Ehrt) In: International Annals of Criminology, (2018), 1-20. doi:10.1017/cri.2018.8
Mapping Far-right Chemical, Biological, Radiological, and Nuclear (

CBRN

) Terrorism Efforts in the West: Characteristics of Plots and Perpetrators for Future Threat Assessment. (together with Peter Popella) In: Terrorism and Political Violence. (2018) doi:https://doi.org/10.1080/09546553.2018.1500365
Die Dynamik der Gewalttätigen Radikalisierung. In: Kriminalistik 2(2016): 136-141.
Counter Extremism and Deradicalization in the German Armed Forces and Police. In: Radicals in Uniform: Case studies of Austria, Czech Republic, Germany, Poland and Slovakia. A. Potočňák and R. Vicenová (ed.). Bratislava, Centre for European and North Atlantic Affairs, 2015, pp. 50-69.
Family Counselling, De-radicalization and Counter-Terrorism: The Danish and German programs in context. In: Countering Violent Extremism: Developing an evidence-base for policy and practice. S. Zeiger and A. Aly (ed.). Perth, Curtin University: 129-136. 2015
"De-radicalization Programs and Counter-terrorism: A Promising Agenda?:http://www.isn.ethz.ch/Digital-Library/Articles/Detail/?lng=en&id=192476 In:

ISN

Security Watch, July 2015.
Deradikalisierung als Methode: Theorie und Praxis im nationalen und internationalen Vergleich. Trends, Herausforderungen und Fortschritte. In: Frindte, Wolfgang; Geschke, Daniel, Haußecker, Nicole; Schmidtke, Franziska (ed.), Rechtsextremismus und "Nationalsozialistischer Untergrund" – Interdisziplinäre Debatten, Befunde und Bilanzen; Wiesbaden: VS-Verlag; 425-442; 2015
Familienberatung als Teil der Prävention und Intervention gegen jihadistische Radikalisierung. In: Kriminalistik 5(2015): 338-344.
Rechtsterrorismus in der Bundesrepublik Deutschland. Ein Profil. In: Kriminalistik (3)2015, 202-208
De-radicalization Programs as Counter-Terrorism and Counter-Extremism Tools. An Introduction into Theory and Practice. In: Panorama of global security environment 2014; Centre for European and North Atlantic Affairs. Bratislava 2015: 571-581
Contrast Societies. Radical Social Movements and their relationships with their target societies. A theoretical model. In: Behavioral Sciences of Terrorism and Political Aggression, 7(1), 2015, S. 18-34 Online
Grundlegende Qualitätsstandards in der Angehörigenberatung als Teilbereich der Deradikalisierungsarbeit. In:

JEX

Journal

EXIT

-Deutschland. Zeitschrift für Deradikalisierung und demokratische Kultur 3/2014, S. 226-244.
Deradikalisierung und Terrorismusbekämpfung – Eine sinnvolle Ergänzung. In: Der Kriminalist. 12/2014-1/2015, 22-25
German Right-Wing Terrorism in Historical Perspective. A First Quantitative Overview of the 'Database on Terrorism in Germany (Right-Wing Extremism)' –

DTG

rwx ' Project. In: Perspectives on Terrorism, 8(5), 48-58. Online
The German 'National Socialist Underground (

NSU

)' and Anglo-American Networks. The internationalization of Far-Right Terror. In: Paul Jackson; Anton Shekhovtsov (Hrsg.), The Postwar Anglo-American Far Right: A Special Relationship of Hate; Basingstoke: Palgrave, 2014: 122-141
Rechtsextremer Terrorismus und Ultra-Militanz als Gruppenphänomen? Der Einfluss der Gruppe auf rechtsextreme Radikalisierungsprozesse. In: Zeitschrift für Internationale Strafrechtsdogmatik (

ZIS

), 9/2014, S. 450-460 Online
Right-Wing Extremist Radicalization Processes: The Formers' Perspective. In:

JEX

Journal

EXIT

-Deutschland. Zeitschrift für Deradikalisierung und demokratische Kultur, 1/2014, 307-377.
Deradicalization. In: Hall, Nathan et al. (Hrsg.): The International Handbook of Hate Crime. Routledge, 2014, 420-429
Family Counselling as Prevention and Intervention Tool Against 'Foreign Fighters'. The German 'Hayat' Program. In:

JEX

Journal

EXIT

-Deutschland. Zeitschrift für Deradikalisierung und demokratische Kultur. 3/2013; 182-204
Über die Notwendigkeit einer deutschen Deradikalisierungsforschung und die entsprechenden Grundlagen. In: Journal

EXIT

-Deutschland (

JEX

), 1/2013, p. 20-40
Geneva Convention. In: The Encyclopedia of Global Religion. Juergensmeyer, Mark; & Wade Clark Roof (Hrsg.); 439-440; Thousand Oaks CA: Sage Publishers, 2012
European Union. In: The Encyclopedia of Global Religion. Juergensmeyer, Mark; & Wade Clark Roof (Hrsg.); 378-382; Thousand Oaks CA: Sage Publishers, 2012
Robin Bush: Nahdlatul Ulama and the Struggle for Power within Islam and Politics in Indonesia (Review) in:

ASIEN

Nr. 117: 104; October 2010