Hicham Tiflati - Fellow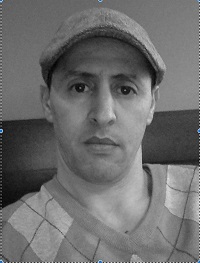 Hicham Tiflati ist wissenschaftlicher Mitarbeiter im Forschungsprojekt "Kanadische Foreign Fighter" and der Waterloo Universität und Koordinator des Projektes "Canadian Muslims Online" an der UQÀM. Zudem ist er Fellow am "Center for the Research on Religion (CREOR)" an der renommierten McGill Universität und erforscht dort Bildungshintergründe von radikalisierten weiblichen Extremisten. Derzeit ist Hicham Tiflati Doktorand am Institut für Religionswissenschaft an der Université du Quebec à Montréal.
Hicham spricht fließend Französisch, Englisch, klassisches Arabisch und die meisten arabischen Dialekte. Sein Arbeitsschwerpunkt liegt auf Identitätspolitik, Staatsbürgerschaften, Teilhabe an Gesellschaften, Integration, religiöser Extremismus und Radikalisierung. Er ist tätig als Berater und Ausbilder für muslimische Jugendliche und arbeitet als Wissenschaftler. Hicham hat umfangreich zum Thema Radikalisierung publiziert und gelehrt.
Ausgewählte Veröffentlichungen:
(forthcoming) Djaout, A. et Tiflati, H. (2016). « Du djihadisme et de l'anti-djihadisme à la radicalisation et lacontre-radicalisation : un essai de clarification », dans Cégépiens, radicalisations et vivre ensemble: actes du Colloque, sous la direction de Habib El-Hage, Montréal, Les publications du Collège de Rosemont.
Tiflati, H. (2016). Destination Da'esh. Pourquoi s'enrôlent-ils: Motifs, Facteurs et trajectoires de radicalisation. Verbatim, Presse de l'Université Laval. Québec. ISBN : 9782763732626
Tiflati, H. (2016). Western Islamic Schools as Institutions for Preventing Behavioral
Radicalization: The case of Quebec. Journal for Deradicalization. Nr. 6. ISSN: 2363-9849. 180-205
Tiflati, H. (2016). Quebec Educational System and the Muslim Community: Why do some Muslim Parents opt for Islamic Schools? Journal of Religious Education, Australian Catholic University. 10.1007/s40839-016-0029-64.
Tiflati, H. (February, 2016). Canada needs a better approach to dealing with disillusioned ISIS returnees. Can be accessed here
Tiflati, H. (February, 2016). Le vivre ensemble et l'islmaophobie au Québec. Can be accessed here
Tiflati, H., & Amarasingam, A. (December, 2015). Quebec needs to confront its Islamophobia problem. Can be accessed here
Tiflati, H., & Taylor, C., (July, 2015). Education, Religion, and Muslims in Quebec: An Interview with Charles Taylor. Can be accessed here