Vidhya Ramalingam - Fellow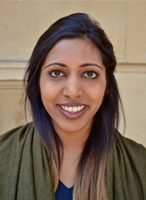 Vidhya Ramalingam ist die Direktorin von Moonshot CVE, eine Organisation mit dem Ziel innovative Methoden als Antworten auf Extremismus und Gewalt zu entwickeln. Sie ist Expertin auf dem Gebiet der fremdenfeindlichen Gewalt, Rechtsextremismus und Terrorismus.
Vidhya war zuvor Senior Fellow im Bereich Rechtsextremismus und Intoleranz am Institute for Strategic Dialogue (ISD), wo sie ein europäisches Ausbildungsprogramm zur Prävention von Rechtsextremismus in Partnerschaft mit den Regierungen von Schweden, Norwegen, Dänemark, Finnland und den Niederlanden aufgebaut hat. Unterstützt von der Europäischen Kommission startete sie außerdem die Far-Right Extremism in Europe Initiative (The FREE Initiative), welche Beratung und Expertise basierend auf E-learning Methoden für Praktiker anbietet. Zudem war Vidhya Senior Research Fellow am Institute for Public Policy Research, wo sie für Forschung im Bereich Migration und Community Change verantwortlich war.
Vidhya hat sich besonders für den Aufbau von Exit- und Deradikalisierungsprogrammen eingesetzt und eine ihrer letzten Veröffentlchungen war: 'The Need for Exit Programmes: Why De-radicalisation and Disengagement Matters in the UK's Approach to Far-Right Violence.' Sie berät Regierungen, Exekutivorgane und zivilgesellschaftliche Organisationen im Bereich effektiver Gegenstrategien zu rechtsextremer Gewalt.
Vidhya ist außerdem Research Associate am Centre on Migration, Policy and Society (COMPAS) und der School of Anthropology an der University of Oxford. Sie ist Mitglied im Beirat von Tell MAMA (Measuring Anti-Muslim Attacks). Vidhya erlangte ihren MPhil Abschluss in Migration Studies von der University of Oxford und ihren BA in Anthropology and Inequality Studies von der Cornell University.