Daniel Koehler - Director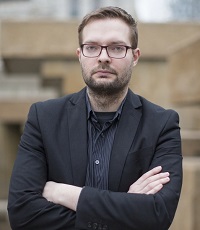 Daniel Koehler studied religion, political sciences and economics at Princeton University and Free University Berlin. After having finished the postgraduate program 'Master of Peace and Security Studies' at the University of Hamburg top of his class he specialized on topics such as terrorism, radicalization, and de-radicalization. He worked as a de-radicalization and family counselor in multiple programs and developed several methodological approaches to de-radicalization, especially family counselling programs around the world. He published numerous articles and chapters on the topic. In addition, he gave expert interviews for leading international news outlets such as The New York Times, The Wall Street Journal, Christian Science Monitor, National Public Radio, Rolling Stone Magazine, Associated Press, or the London Sunday Times. Daniel Koehler is also the co-founder of the first peer reviewed open access journal on de-radicalization, which he created together with the German Institute on Radicalization and De-Radicalization Studies (GIRDS) in 2014.
Between June 2015 and July 2019, GIRDS Director Daniel Koehler was a Fellow of George Washington University's Program on Extremism at the Center for Cyber and Homeland Security.
In 2016 he was appointed to be the first court expert on de-radicalization in the United States of America at the District Court in Minneapolis. He has since then conducted risk assessment and de-radicalization evaluations of terrorist offenders in prison and trained expert personnel from various US Government agencies.
Since 2016 he also works with the Ministry of the Interior in Baden-Württemberg/Stuttgart to help coordinate the state wide prevention network against violent extremism and radicalization.
In July 2017 Daniel became a member of the Editorial Board of the International Centre for Counter-Terrorism in The Hague.
In November 2019 he was appointed as Research Fellow at the new Polarization and Extremism Research and Innovation Lab at the "Center for University Excellence (CUE)" of the American University in Washington D.C.
If you wish to contact Daniel Koehler for interviews or other requests please write a message to contact[at]girds.org.
Selected publications:
Monographs:
Selected Articles and Papers:
Recent Trends in German Right-Wing Violence and Terrorism: What are the Contextual Factors behind 'Hive Terrorism'? In: Perspectives on Terrorism (2018), 12(6), 72-88.
Parents' Associations, Support Group Interventions and Countering Violent Extremism: An Important Step Forward in Combating Violent Radicalization. (together with Tobias Ehrt) In: International Annals of Criminology, (2018), 1-20. doi:10.1017/cri.2018.8
Mapping Far-right Chemical, Biological, Radiological, and Nuclear (

CBRN

) Terrorism Efforts in the West: Characteristics of Plots and Perpetrators for Future Threat Assessment. (together with Peter Popella) In: Terrorism and Political Violence. (2018) doi:https://doi.org/10.1080/09546553.2018.1500365
Counter Extremism and Deradicalization in the German Armed Forces and Police. In: Radicals in Uniform: Case studies of Austria, Czech Republic, Germany, Poland and Slovakia. A. Potočňák and R. Vicenová (ed.). Bratislava, Centre for European and North Atlantic Affairs, 2015, pp. 50-69.
Family Counselling, De-radicalization and Counter-Terrorism: The Danish and German programs in context. In: Countering Violent Extremism: Developing an evidence-base for policy and practice. S. Zeiger and A. Aly (ed.). Perth, Curtin University: 129-136. 2015
"De-radicalization Programs and Counter-terrorism: A Promising Agenda?:http://www.isn.ethz.ch/Digital-Library/Articles/Detail/?lng=en&id=192476 In:

ISN

Security Watch, July 2015.
Familienberatung als Teil der Prävention und Intervention gegen jihadistische Radikalisierung. In: Kriminalistik 5(2015): 338-344.
Rechtsterrorismus in der Bundesrepublik Deutschland. Ein Profil. In: Kriminalistik (3)2015, 202-208
De-radicalization Programs as Counter-Terrorism and Counter-Extremism Tools. An Introduction into Theory and Practice. In: Panorama of global security environment 2014; Centre for European and North Atlantic Affairs. Bratislava 2015: 571-581
Contrast Societies. Radical Social Movements and their relationships with their target societies. A theoretical model. In: Behavioral Sciences of Terrorism and Political Aggression, 7(1), 2015, 18-37; Online
German Right-Wing Terrorism in Historical Perspective. A First Quantitative Overview of the 'Database on Terrorism in Germany (Right-Wing Extremism)' –

DTG

rwx ' Project. In: Perspectives on Terrorism, 8(5), 48-58. Online
The German 'National Socialist Underground (

NSU

)' and Anglo-American Networks. The internationalization of Far-Right Terror. In: Paul Jackson; Anton Shekhovtsov (eds.), The Postwar Anglo-American Far Right: A Special Relationship of Hate; Basingstoke: Palgrave, 2014: 122-141
Right-Wing Extremist Radicalization Processes: The Formers' Perspective. In:

JEX

Journal

EXIT

-Deutschland. Zeitschrift für Deradikalisierung und demokratische Kultur, 1/2014, 307-377.
Deradicalization. In: Hall, Nathan et al. (eds.): The International Handbook of Hate Crime. Routledge, 2014, 420-429
Family Counselling as Prevention and Intervention Tool Against 'Foreign Fighters'. The German 'Hayat' Program. In:

JEX

Journal

EXIT

-Deutschland. Zeitschrift für Deradikalisierung und demokratische Kultur. 3/2013; 182-204
Becoming an Extremist: Lifestyle Elements and Right-Wing Radicalization in Germany. Together with Cynthia Miller-Idriss. Conference paper presented at 20th International Conference of Europeanists, Council for European Studies, Amsterdam 2013
Geneva Convention – article in: The Encyclopedia of Global Religion. Juergensmeyer, Mark; & Wade Clark Roof (eds.); 439-440; Thousand Oaks CA: Sage Publishers, 2012
European Union – article in: The Encyclopedia of Global Religion. Juergensmeyer, Mark; & Wade Clark Roof (eds.); 378-382; Thousand Oaks CA: Sage Publishers, 2012