Simon Cornwall - Fellow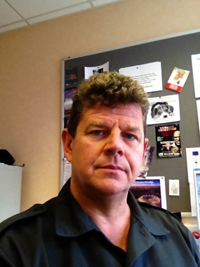 Simon Cornwall served in the British Military for 14 years seeing active service on 3 occasions. He was also involved in Counter Terrorism work in Northern Ireland throughout his service. He then lived and worked in the Kingdom of Saudi Arabia for over 12 years as a military contractor involved in training Middle Eastern military students.
Simon then trained as a Probation Officer in London, he went on to work in a serious substance misuse team, managing high risk offenders. He then became a manager running offender management units and court teams.
In 2009 Simon was recruited to set up the Central Extremism Unit (which later became the Extremism and Hate Crime Unit) He was operational manager of the unit up until June 2015, he was involved in working with terrorist/extremist offenders on a daily basis, producing guidance and policy and designing and delivering training to staff in Probation, Prisons and Police. He has designed interventions/programs and managed the delivery of, and assessment for, all types of intervention. He also acted as a consultant on his work to various Government agencies both nationally and internationally. He has been in involved in pilot projects for NOMs and other Governmental agencies in counter terrorism work. He has been involved in setting up, running and partnering on many European projects with international partners and has been a core member of the Radicalization Awareness Network since it's inception.
Simon was also the National Offender Management Service Counter Terrorism Lead for London. This involved high level management of individuals through various overt and covert agencies.
Simon has been involved in supervising over 75 convicted terrorists in the community in London. He has worked with over 40 convicted terrorists in custody. This include Religious, Right wing, Left wing, Anarchists and Animal Rights offenders. The Extremism and Hate Crime Unit also assess up to 30 individuals a month who are referred as being of concern of becoming involved in behaviour that may lead to Violent Extremism or Terrorism. Simon developed and delivers 3 day training to staff who are "working with violent extremists" And various 1 day courses on a variety of issues (right wing, Faith based extremism, animal rights etc) He delivers briefings around emerging threats and trends and informs other agencies work.
Simon has recently taken on a new and challenging role with the Office of Security and Counter Terrorism (Home Office) to initiate, coordinate and drive collective responses within the London borough of Wandsworth (internally and externally with partners and the community) to identify, prioritise and facilitate the delivery of projects, activities and interventions to reduce the risk of people being drawn into terrorism. Planned outcomes include improved awareness of front line staff of preventing extremism and recognising radicalisation; building community resilience to identify and challenge extremism and radicalisation where this might be present; identify local residents and organisations with credible counter narrative voices; increase resilience to on-line radicalisation; and reducing the risk of vulnerable individuals to extremism.