Vidhya Ramalingam - Fellow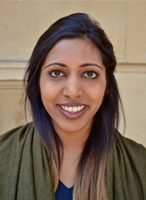 Vidhya Ramalingam is Director of Moonshot CVE, a specialist organisation working to develop and pilot innovative methods of response to extremism and community violence. She is an expert on responses to anti-minority violence, far-right extremism and terrorism.
Vidhya was previously Senior Fellow on Far-Right Extremism and Intolerance at the Institute for Strategic Dialogue (ISD), where she set up a European capacity building programme on prevention of far-right extremism, in partnership with the governments of Sweden, Norway, Denmark, Finland, and the Netherlands. With support from the European Commission, she launched The Far-Right Extremism in Europe Initiative (The FREE Initiative), which offers guidance and online learning for practitioners. She was also previously a Senior Research Fellow at the Institute for Public Policy Research, where she oversaw research and policy work on migration and community change.
Vidhya has been an advocate for Exit and de-radicalisation programmes, and her recent publications include 'The Need for Exit Programmes: Why De-radicalisation and Disengagement Matters in the UK's Approach to Far-Right Violence.' She regularly briefs government, law enforcement, and community organisations on effective responses to far-right violence.
Vidhya is also a Research Associate of the Centre on Migration, Policy and Society (COMPAS) and the School of Anthropology at the University of Oxford. She sits on the Advisory Board of Tell MAMA (Measuring Anti-Muslim Attacks). She holds an MPhil in Migration Studies from the University of Oxford, and a BA in Anthropology and Inequality Studies from Cornell University.